(back to Video, Misc.)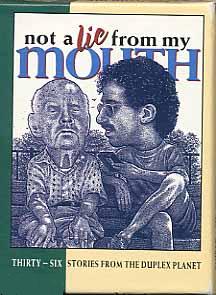 CARDSET Not A Lie From My Mouth $10.95
Published by Kitchen Sink Press, this set of 36 duotone cards in a box,
each features a story from *The Duplex Planet* on one side and an
illustration on the other. Artists: Dan Clowes, Doug Allen, Gary Leib,
Jaime Hernandez, Jim Woodring, Dean Rohrer, J.D. King, Wayno, Drew Friedman
and Mark Martin.
(back to Video, Misc.)